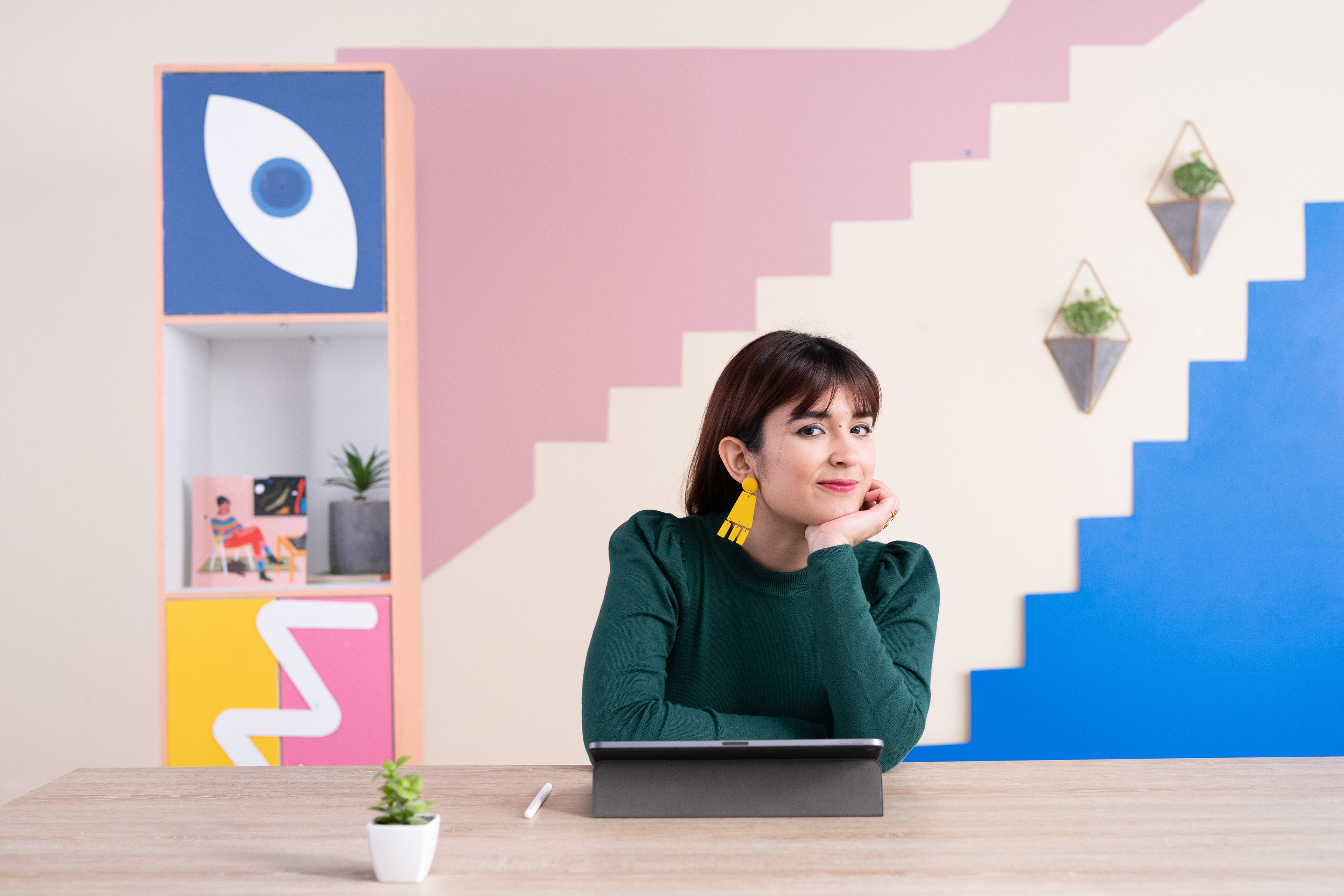 Catalina Vasquez is an filmmaker and illustrator, from Medellín, Colombia. Represented by Pencil Illustration Agency. She has worked in the publishing field, illustrating books, articles for magazines, advertising, apps, educational projects, museography, textile, film and fashion. Her clients include

Snapchat, Procter & Gamble, Avianca, Domestika

among others. She loves to illustrate clothing, people, places and to combine vibrant colors, textures, organic shapes to create emotion. Over the years, she has developed her own personal work, including directing and producing independient animation projects.
Reciclando Recuerdos (Recycling Memories) -
Documentary short film / Script, direction

-Best New Creator. Cartagena International Film Festival 2011. Colombia.

-Official Selection "Focus Colombia". MiradasDoc Film Festival 2011. Spain.
-Second place."Antioquia Para Verte Mejor" Film Contest 2012. Colombia.
Islas (Islands) -
 Animation short film / Script, direction, animation

-Short Film Corner. Cannes Film Festival 2015. France.
-Official selection. Copa Dos Curtas Film Festival 2015. Brasil.
-Official selection students category. Athens Animfest 2015. Greece.
Cárcel (Jail) - documentary animation short film / script, directing

-Selected project in the BTG (Bridging The Gap) Animation Lab. Spain 2016.
-The Film Development Fund (FDC) animation grant award. Colombia. 2016.
El Perro Que Ladra - Festival de Cine Colombiano de París, Francia 2019.
Weitblick - Braunschweig, Alemania 2019
Festival Internacional de Cine Colombiano de Buenos Aires - Buenos Aires, Argentina 2019
Animalatina - Buenos Aires, Argentina - junio 2019
Lakino, Latin american short lmfestival Berlín - Berlín, Alemania 2019
Animalatina - Buenos Aires, Argentina - Junio 2019
2da Muestra Cinespacio - Cali, Colombia - Junio 2019
Monstra - Lisbon Animated Film Festival Lisboa, Portugal 2019
MIC Género 2019 - México y Argentina
Festival de Cine de Málaga - Málaga, España 2019
Bogoshorts – Bogotá, Colombia 2018
Festival De Cine Corto De Popayán – Popayán, Colombia 2018
*Premio a mejor cortometraje de animación
Festival Internacional De Cine Independiente De Villa De Leyva
Villa de Leyva, Colombia 2018
Pantalla Latina – St Gallen, Suiza 018
Cutout Fest, Festival Internacional De Animación - Queretaro, México –2018
Dok Leipzig – Leipzig, Alemania 2018
Taf - Thessaloniki Animation Festival 2018
Animatou Animation International Film Festival – Ginebra, Suiza 2018

For any inquires please contact me at:
 A

mnesty International · Doméstika · Snapchat  · Airbnb  · Peguin Random House  · Ministry of Culture of Colombia  · Reserve  · Radio Ambulante  · Fundación Nuevo Periodismo Iberoamericano FNPI  · Mutante  · Universidad Eafit  · Revista Semana  · Revista Avianca · El Espectador

 · Señal Colombia  ·​​​​​​​ Fiesta del Libro y la Cultura de Medellín.